My Baker Ancestors
---
The following information was given to me by Orel Baker, Mildred Baker, Nancy Jane Jackson, Pontotoc Co., Oklahoma Genealogy Look-ups, Jackson Co., Alabama Genealogy Look-ups, T.J. Bynum, the book, "Beginning At Cold Springs" The history of Allen, Oklahoma, by Hope Patterson McInroy.
A heartfelt gratitude to my kind and helpful guru comrade who wishes to remain anonymous.

---
***PLEASE NOTE THAT THE FOLLOWING INFORMATION IS JUST PROVIDED HERE ONLY WITH THE INTENTION OF BEING HELPFUL IN SOME WAY TO OTHER RESEARCHERS WHO HAPPEN TO BE RESEARCHING THESE SURNAMES ALSO! - DO NOT ASSUME THAT ALL INFORMATION IS CORRECT - AS I AM NOT LIABLE FOR INACCURACIES - ALTHOUGH I WOULD HOPE THAT MOST INFORMATION FOUND IN RESEARCH BOOKS, ONLINE, OR PASSED ALONG TO ME WOULD BE "COMPLETELY" ACCURATE, "SOMETIMES" THAT IS NOT THE CASE.***
You are welcome to copy information found at this site for personal use and share information with other researchers or genealogical organizations if you wish, but remember each bit of information found here or elsewhere must be researched and proved or disproved by weight of evidence by you, the researcher, and nothing here may be sold.
---
DESCENDANTS OF JESSE B. BAKER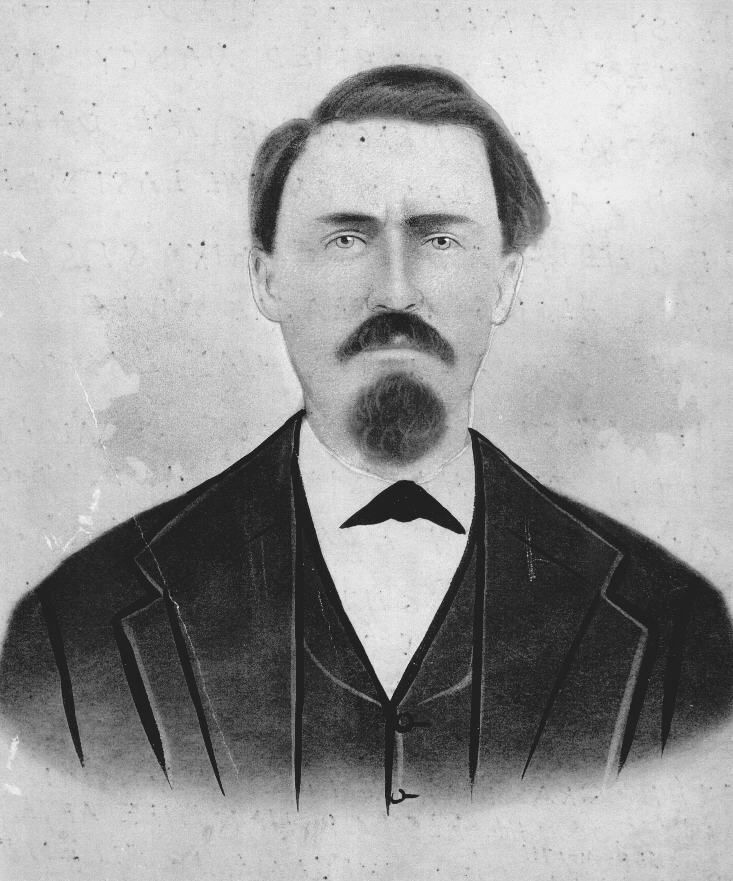 My ggGrandfather
April 09, 1844-August 05, 1898
---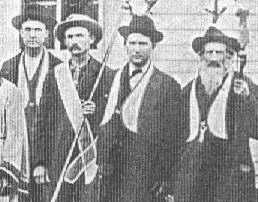 right to left; Bud Baker, Will Baker, E.G. Baker, my gGrandfather and Jesse Baker, my ggGrandfather. This picture was taken of the I.O.O.F Lodge #97 at Huntsville, Arkansas when my gGrandfather was 24 years old. Shortly after, he rode a horse to Indian Territory in Oklahoma and eventually met and married my gGrandmother, Leona Bell Bynum.
---
Generation No. 1
JESSE B. BAKER was born April 09, 1844 in Kentucky or Tennessee, and died August 05, 1898 in Arkansas. He married NANCY JANE COX in Huntsville, Arkansas, daughter of PETER COX and THAZZA. Jesse moved to Huntsville, Arkansas about 1852. He was in the Civil War, wounded, and discharged. He married Nancy Jane Cox. Jesse was a member of the I.O.O.F. Lodge #97 of Huntsville, Arkansas. Children of JESSE BAKER and NANCY COX are:
Cora Baker. Belle Baker, m. ?? Chase. Martha Baker. William Franklin Baker. Annie Baker, b. Arkansas; d. Oklahoma. Bud Baker. ERWIN GEORGE Baker, b. December 27, 1878, Boone County Arkansas; d. July 13, 1964.

Pictured above right, my gGrandfather, E.G. Baker with his two friends Edgar (center) and Lon Dyson. This was taken in Indian Territory, Oklahoma.
---
Generation No. 2
Cora Baker married Unkown Fry. Child of Cora Baker and Unknown Fry is: Ivan Fry.
Martha Baker married (1) Unknown Waters. She married (2) Unknown McKenzy. Children of Martha Baker and Unknown Waters are: Omah Waters. Willie Waters. Bennie Waters. Children of Martha Baker and ?? McKenzy are: Chester McKenzy. Maud McKenzy. J.R. McKenzy.
William Franklin Baker married Cora Fritts. Child of William Baker and Cora Fritts is: i. William Bert Baker.
Annie Baker married (1) James Morrison. She married (2) Unknown Fry. Children of Annie Baker and James Morrison are: George Morrison, b. Abt. 1920. Jeffrey Morrison. Anne Morrison. Children of Annie Baker and Unknown FRY are: . Huey Fry. Donna Fry. Donna Fry was Miss Witchita.......she made movies 1925-1926. Married a rich jewish man in New York. Jack Fry. Hazel Fry. Philip Fry.
Bud Baker married Hannah Marshall. Child of Bud Baker and Hannah Marshall is: Virgie Baker.
Erwin George Baker was born December 27, 1878 in Boone County Arkansas, and died July 13, 1964. He married Leona Belle Bynum March 29, 1905 in Allen, Oklahoma, daughter of Thomas Bynum and Mary Phelps.
SERVICES IN MEMORY OF GEORGE ERWIN BAKER
December 27, 1878 - July 13, 1964 Thursday, July 16, 1964 Organ Prelude Ruth Yakigian Claggett, Organist Scripture Reading Prayer Obituary Poem
Pall Bearers: James Morrison, Joe Mancillas, Arthur Payne, Jeff Morrison, Ralph Wright , J.N. Briscoe. Rev. Don Fowler First Baptist Church of Calwa Precious Lord Take My Hand Bill Edmonson, Guest Soloist Sermon Prayer Rev. Don Fowler Shall We Gather At The River Internment Belmont Memorial Park
Funeral Notice LEONA BELL BAKER Wife of E.G. Baker Born February 4, 1889 Died August 8, 1928 Funeral services at family home, Thursday, August 9, 1928, at 3 p.m., Rev. T. F. Roberts officiating. Interment at Allen Cemetery, Allen, Oklahoma
Children of Erwin Baker and Leona Bynum are: Jessie Baker. George Orel Baker, Alene Baker, Mary Jane Baker, Mildred Ann Baker, b. Allen, Oklahoma. Baby boy Baker, b. August 08, 1928.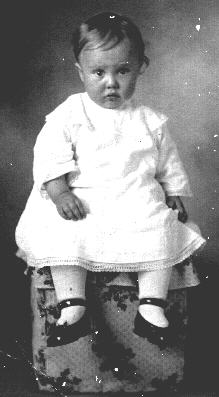 My Grandma Mildred Ann Baker
---

My ggGrandmother, Nancy Jane (Cox) Baker with my Grandma's little sister, Mary Jane Baker.
---
Generation No. 3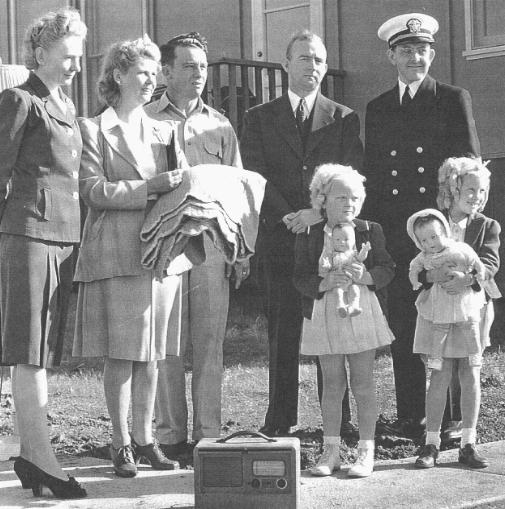 George Morrison married Clara Clarke. Children of George Morrison and Clara Clarke are: James Morrison, Anne Morrison, Drew Morrison.
George Orel Baker married Maude ??. Child of George Baker and Maude is: Marjorie Baker, m. Frank Meadows. Mildred Ann Baker was born in Allen, Oklahoma. She married Clarence Henry Phillips 1934 in Ada, Oklahoma, son of William Henry Phillips and Mary Gallagher.
Clarence Henry or "Red" as he is known, was a student at Tulsa University where he was a football and track star. He later went to work for Gulf Oil where he was employed for over 40 years. Children of Mildred Baker and Clarence Phillips are: Clarence Bruce Phillips, b. Tulsa, Oklahoma. Charles Patrick Phillips, b. Vernon, Texas.
---
Generation No. 4
Bruce Phillips married Norma Elaine Bundy July 08, 1955 in Centralia Township, Marion County, Illinois, daughter of Orville Johnson Bundy and Ruby Ann Sanders.
Bruce and Norma's marriage ended thirteen years later in divorce. They had only one child.
Child of Bruce Phillips and Norma Bundy is: Kim Renee' Phillips, b. Illinois.
Charles Patrick Phillips married Janet Cook March 16, 1957 in Centralia Township, Marion County, Illinois. Children of Charles Phillips and Janet Cook are: Mark Patrick Phillips, Bradley Jay Phillips.
---
Generation No. 5
Kim Phillips married Gregory Randolph in Perryville, Missouri, son of Rodger Randolph and Ruby Williams. Children of Kim Phillips and Gregory Randolph are: Jason Todd Randolph, John Gregory Randolph both b. in Illinois.
Mark Patrick Phillips married Kathy Spinner. Children of Mark Phillips and Kathy Spinner are: Matthew Phillips, Joshua Phillips.
Bradley Jay Phillips married Lora Hensley. Children of Bradley Phillips and Lora Hensley are: Sarah Phillips. Nicole Phillips. Ashley Phillips.
---
Links
Email: groovin@charter.net