MY BYNUM ANCESTORS
---
The following information was given to me by Orel Baker, Mildred Baker, Pontotoc Co., Oklahoma Genealogy Look-ups, Jackson Co., Alabama Genealogy Look-ups, T.J. Bynum, the book, "Beginning At Cold Springs" The history of Allen, Oklahoma, by Hope Patterson McInroy.
My heartfelt "thanks" to the kind and helpful ones....you know who you are.
---
***PLEASE NOTE THAT THE FOLLOWING INFORMATION IS JUST PROVIDED HERE ONLY WITH THE INTENTION OF BEING HELPFUL IN SOME WAY TO OTHER RESEARCHERS WHO HAPPEN TO BE RESEARCHING THESE SURNAMES ALSO! - DO NOT ASSUME THAT ALL INFORMATION IS CORRECT - AS I AM NOT LIABLE FOR INACCURACIES - ALTHOUGH I WOULD HOPE THAT MOST INFORMATION FOUND IN RESEARCH BOOKS, ONLINE, OR PASSED ALONG TO ME WOULD BE "COMPLETELY" ACCURATE, "SOMETIMES" THAT IS NOT THE CASE.***
You are welcome to copy information found at this site for personal use and share information with other researchers or genealogical organizations if you wish, but remember each bit of information found here or elsewhere must be researched and proved or disproved by weight of evidence by you, the researcher, and nothing here may be sold.
---
DESCENDANTS OF ISAAC BYNUM, JR.
---
Generation No. 1

1. Isaac Bynum, Jr. . He married Tabitha Young.
Children of Isaac Bynum and Tabitha Young are: i. James Monroe Bynum, b. January 01, 1833, Maynards Cove, Jackson County, Alabama. ii. Mary Elizabeth Bynum. iii. Nancy Rebecca Bynum. iv. William Robert Bynum. v. Benjamin Franklin Bynum. vi. Isaac Newton Bynum. vii. Thomas William Bynum. viii. Jasper Luther Bynum. ix. Jesse Wilburn Bynum. x. John Lewis Bynum. xi. Erwin Stephan Bynum.

---
Generation No. 2
James Monroe Bynum was born January 01, 1833 in Maynards Cove, Jackson County, Alabama. He married (1) Sarah Lou Sprouse. He married (2) Martha Caroline Proctor 1851. He married (3) unknown 1875 in Choctaw Nation. He married (4) Amanda McKinney October 21, 1877 in Creek Nation.
After the Civil War, James and his family head for Indian Territory, with delays enroute in Arkansas. He and family arrived in IT in late 1874, Martha died on 10 Nov 1874 at Canadian, IT. She is buried at McDoogal Cemetery in Pittsburg County. Her grave is marked. Thomas learned a trade in the mercantile business, worked for a while at a place called Hird, IT and then moved on to Pontotoc County. Robert Newton did the same, except he moved to Tulsa. Robert Newton Bynum became the second Mayor of Tulsa.
Children of James Bynum and Martha Proctor are: i. Thomas Bynum, b. November 19, 1855, Maynards Cove, Jackson County, Alabama; d. February 22, 1925. ii. Robert Newton Bynum.iii. Margaret Tabitha Bynum. iv. James Franklin Bynum.

---
Generation No. 3
Thomas Bynum was born November 19, 1855 in Maynards Cove, Jackson County, Alabama, and died February 22, 1925. He married Mary Ella Phelps October 1877 in Eufala, Indian Territory, Oklahoma.
Thomas Bynum was born in Maynard's Cove, Jackson, County, Alabama, 19 November 1855. The eldest son of James Monroe Bynum and grandson of Isaac Bynum, Jr. He was probably about twelve years old when he left Jackson County, Alabama with his mother and father. It is not really clear where they migrated to. Based on information that Thomas's next younger brother, Robert Newton, stated in an article about himself, it appears the family moved into Arkansas. Thomas died 22 February 1925 at a Hospital in Ada, Oklahoma because of a bee sting. Thomas was sixty-nine years of age and ninety-five days old at time of death, he died on a Sunday. He and Mary Ellen were married 47 years and 144 days. He and Ella had thirteen children of which eight will live to adults and have families of their own. Their children are: Minnie Mae, Nellie Tabitha, Leona Belle (my gGrandmother), Henry, Jessie Allen, Arthur, William Thomas and Bonnie Rella Bynum. Thomas is buried in Sasakwa, Seminole County, Oklahoma. Ella will survive Thomas and die 7 January 1954. She is buried at Allen, Pontotoc County, Oklahoma. Ella married second to a man by the name of Woods.
In a book titled History of Indian Territory, on page 948-949 there appears an article or autobiography sketch of Thomas Bynum. The article reads... THOMAS BYNUM
Thomas Bynum, who is a member of the firm of West, Bynum & McFarlin, is actively associated with mercantile interests of Ada. He was born in Alabama on the 19th of November, 1855, and acquired a common-school education, which has been supplemented by reading, study and experience in later life. He was twenty years of age when, in 1875, he came to the Indian Territory, here following farming and cattle raisiing. At Hird, he entered a new field of labor, becoming connected with mercantile interests as a partner of A.J. West. They carried on their store there for two years, but in 1900 came to Ada, where the firm of West, Bynum & McFarlin was established. Although this industry is of a comparatively recent date they have already become established in a good business and their trade is constantly increasing, for their reliable methods, courteous treatment and ernest desire to please secures for them a liberal and well-merited patronage. The new McFarlin Hotel is a monument to the enterprise of the firm, by which it was erected, at a cost of four thousand dollars. It is equipped with all the modern conviences and is up-to-date in every particular.
MY GGGRANDMOTHER
Mary Ella (Phelps )Bynum
Mr. Bynum was married, in October, 1877, to Miss Ella Phelps, of Eufaula, Indian Territory, and unto them have been born seven children: Henry, Minnie, Nellie, Leona, Jesse, Arthur and Willie. Mr. Bynum is a member of Magnolia Lodge, No. 95, K.P., and is a man of genuine worth, possessing sterling traits of character, which have won for him high regard wherever he is known. It will be interesting in this connection to note something of his family history. His parents, James and Mary (Proctor) Bynum, came to the Indian Territory in 1875, and the mother died the same year, but the father survived her for some time. They had six children, of whom the following are living: Mrs. Maggie Jennings, of McAlester; Thomas, of Ada; and Robert, who is living in Tulsa, Indian Territory.
TOM BYNUM DEAD
Sunday, March 1, Mr. Tom Bynum (Uncle Tom) a pioneer citizen of Oklahoma, passed into his final rest. Mr. Bynum was born in the state of Alabama November 19, 1855, thus being at the time of his death 79 years, 3 months and 12 days of age. He came to the old Indian Territory at an early date and settled in the eastern part of what is now Oklahoma. Later he moved near Allen, where he spent the remainder of his days. He had lived just north of the Brown crossing for the last 12 years. Mr. Bynum was married to Miss Ella Phelps at Eufaula in 1879. To them were born eight sons and five daughters. Of these four sons and four daughters remain with their mother to mourn the loss of the beloved companion and father. Agood man has gone, one who will be missed. He was a kind and loving husband and father, a true neighbor and friend, and those who knew him speak in the highest terms of his life. A large crowd of his friends and neighbors gathered at the Methodist church Monday afternoon as a testimonial of their respect for his life and in sympathy with those left behind.--John A. Morgan.
Thomas and "Ella" arrived in Indian Territory in the year 1874 and they settled at a place called Inianola, Choctaw Nation, Tobrucksy County (now Pittsburg County)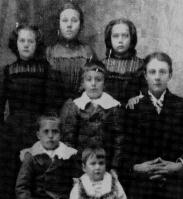 THE BYNUM CHILDREN
The Bynum children, except Bonnie. Back row: Nellie, Minnie, Leona (my gGrandmother). Extreme right: Henry, Pete, Arthur and baby, Short Bynum.
Children of Thomas Bynum and Mary Phelps are: i. Henry Bynum m. Goldie Olivio. ii. Minnie Mae Bynum m. Bill McElroy. iii. Nellie Tabitha Bynum m. Newell Olivio. iv. Jessie Allen Bynum. v. Arthur Bynum. vi. Bonnie Rella Bynum. v. Leona Belle Bynum, b. February 04, 1889, Allen, Oklahoma; d. August 08, 1928. She died in child birth along with her baby boy. viii. William Thomas Bynum.

---
Generation No. 4
Minnie Mae Bynum was born October 12, 1883 in Indian Territory; m. Bill McElroy August 20, 1905 in Sasakwa. Children of Minnie Bynum and Bill McElroy: i. Obie Ora McElroy b. August 17, 1907; d. March 11, 1962. m. Allie W. Tillery January 3, 1931. ii. Edgar Vernon McElroy b. January 31, 1911. m. Yvonne Newcomb in Ada, Oklahoma October 10, 1940. iii. Williamae McElroy b. April 28, 1914 in Allen, Oklahoma; m. Royal Sanders in Ada, Oklahoma December 2, 1935. iv. Verna Christine McElroy b. May 19, 1920; m. Kenneth Hughes February 14, 1939.
Minnie Bynun McElroy was a teacher before her marriage. When Hattie Carson resigned from Old McCall's Chapel School to marry Watt Jones February 7, 1904, Minnie took her place there.
Leona Belle Bynum was born February 04, 1889 in Allen, Oklahoma, and died August 08, 1928. She married Erwin George Baker March 29, 1905 in Allen, Oklahoma, son of Jesse Baker and Nancy Cox.
LEONA BELL BAKER
Wife of E.G. Baker
Born February 4, 1889 Died August 8, 1928
Funeral services at family home, Thursday, August 9, 1928, at 3 p.m., Rev. T. F. Roberts officiating. Interment at Allen Cemetery, Allen, Oklahoma.
Children of Leona Bynum and Erwin Baker are: i. Jessie Baker. ii. George Orel Baker. iii. Alene Baker. iv. Mary Jane Baker. v. Mildred Ann Baker, b. Allen, Oklahoma; m. Clarence Henry Phillips, July 24, 1934, Ada, Oklahoma. vi. Baby Boy Baker, b. August 08, 1928.
---
Links
Email: groovin@charter.net