Our Krantz Ancestors

---
PLEASE NOTE THAT THE FOLLOWING INFORMATION IS JUST PROVIDED HERE ONLY WITH THE INTENTION OF BEING HELPFUL IN SOME WAY TO OTHER RESEARCHERS WHO HAPPEN TO BE RESEARCHING THESE SURNAMES ALSO! - DO NOT ASSUME THAT ALL INFORMATION IS CORRECT - AS I AM NOT LIABLE FOR INACCURACIES - ALTHOUGH I WOULD HOPE THAT MOST INFORMATION FOUND IN RESEARCH BOOKS, ONLINE, OR PASSED ALONG TO ME WOULD BE "COMPLETELY" ACCURATE, "SOMETIMES" THAT IS NOT THE CASE.
You are welcome to copy information found at this site for personal use and share information with other researchers or genealogical organizations if you wish, but remember each bit of information found here or elsewhere must be researched and proved or disproved by weight of evidence by you, the researcher, and nothing here may be sold.
---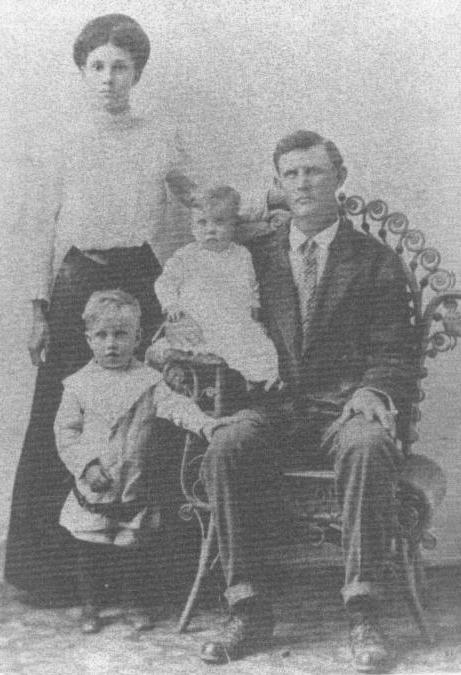 Lula (Krantz) and Archie L. Williams with two of their eleven children

---

~Generation No. 1~

1. THOMAS1 KRANTZ He married ELIZABETH KENT.

Children of THOMAS KRANTZ and ELIZABETH KENT are:

i. JOEL L.2 KRANTZ.
ii. POLLY KRANTZ, b. 1805; m. WILLIAM STEWART, 1865.
iii. MALINDA KRANTZ, b. 1807.
iv. SARAH SALLY KRANTZ, b. December 22, 1809, Virginia?; d. March 19, 1900, Williamson County, Illinois; m. WILEY BERRY CHAMNESS.
v. MICHAEL KRANTZ, b. 1813.
2. vi. JOHN HENRY KRANTZ, b. 1821, Cheatham/Davidson Cty, Tn; d. August 10, 1903, Williamson County, Illinois.
3. vii. DAVID KRANTZ, b. Abt. 1822.

~Generation No. 2~

2. JOHN HENRY2 KRANTZ (THOMAS1) was born 1821 in Cheatham/Davidson Cty, Tn, and died August 10, 1903 in Williamson County, Illinois. He married SUSANNAH BINKLEY January 22, 1839 in Davidson Co., Tennessee, daughter of GEORGE WASHINGTON BINKLEY. She was born Abt. 1821, and died December 28, 1878 in Williamson County, Illinois.

Child of JOHN KRANTZ and SUSANNAH BINKLEY is:

4. i. JOHN WILLIAM WESLEY3 KRANTZ, b. November 10, 1847; d. September 23, 1927.

3. DAVID2 KRANTZ (THOMAS1) was born Abt. 1822. He married LEVINA BINKLEY August 21, 1843. She was born Abt. 1826.

Children of DAVID KRANTZ and LEVINA BINKLEY are:

i. ROSE ANN3 KRANTZ.
ii. MICHAEL KRANTZ, b. 1851.
iii. WILEY KRANTZ.
iv. MARY KRANTZ.
v. MARTHA KRANTZ.
vi. JOSEPH KRANTZ.
vii. MINERVA KRANTZ.

~Generation No. 3~

4. JOHN WILLIAM WESLEY3 KRANTZ (JOHN HENRY2, THOMAS1) was born November 10, 1847, and died September 23, 1927. He married SARAH CATHERINE PROCTOR, daughter of WILEY PROCTOR and JULIA CAGLE. She was born November 07, 1850 in Robertson County, Tennessee, and died January 11, 1935 in Williamson County, Illinois.

More About JOHN WILLIAM WESLEY KRANTZ:
Baptism (LDS): moved to Illinois in 1866

Children of JOHN KRANTZ and SARAH PROCTOR are:

i. CHARLES4 KRANTZ.
ii. EFFIE ANN KRANTZ.
iii. ELBERT A. KRANTZ.
iv. JANEY KRANTZ.
v. JOHN KRANTZ.
vi. KATE KRANTZ.
vii. LUSELLIS KRANTZ.
viii. MELVIN KRANTZ.
ix. LULA KRANTZ, b. April 09, 1892, Johnston City, IL; d. February 10, 1962, Johnston City, IL; m. ARCHIE L. WILLIAMS; b. 1886, Williamson Co., IL.

---